Jagan Srinivasan, PhD: Principal Investigator

Professor Srinivasan was born and raised in India. He completed his undergraduate course work at the University of Chennai earning a BS in Zoology and Chemistry. He then moved on to his MS at Goa University completing a degree in Marine Biology and Biotechnology. Professor Srinivasan thereupon relocated to Tuebingen, Germany where he completed his Ph.D in Genetics at the Max Planck Institute for Developmental Biology. His postdoctoral research soon after sent him to Pasadena, California where he studied the evolution of behavior in C. elegans and small-molecule metabolites regulating social behaviors in C. elegans at Caltech. After his time in Pasadena, in 2012, he moved to the opposite side of the country where he now is an Associate Professor at Worcester Polytechnic Institute in Worcester, MA. He is also the Director of the Masters Program in Neuroscience at WPI. While simultaneously teaching classes he also focuses on researching brain process signaling and social behaviors using the model system C. elegans. His C. elegans work not only deals with the neurobiology but also biodiversity and ecology of C. elegans which can be seen in the Nematode Citizen Science Project.
Office Location: Life Sciences Bioengineering Center, Gateway Park, Room Nr. 4006, Contact: jsrinivasan@wpi.edu
---
Caroline Muirhead: PhD Candidate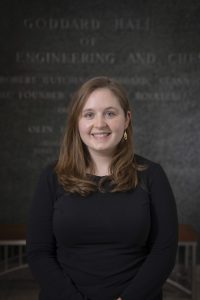 Caroline graduated from Smith College in 2017 where she earned a double bachelor's degree in biology and engineering. Before coming to WPI she worked at a small biotech company in Massachusetts developing food sensitivity tests. She is interested in pursuing a multisensory integration project and developing her neurobiology skills. Outside of lab, Caroline enjoys spending time with her family, any outdoor activity, cooking, and hockey.
Contact: csmuirhead@wpi.edu
---
Elizabeth DiLoreto: PhD Candidate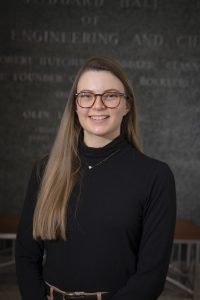 Liz graduated Assumption College in 2017, earning a Biology degree with a concentration in Neuroscience and a minor in Psychology. It was this focus in Neuroscience that initially drew her to the Srinivasan lab where she functioned as the Research Associate and Lab Manager from 2017-2020. Before working with this lab, she researched at the University of Massachusetts Medical School investigating ALS-linked proteins, completing an undergraduate honors project on this topic at Assumption. She has also interned at AbbVie Bioresearch Center here in Worcester. Starting in the fall of 2020, she transitioned to the role of graduate student. She will be continuing on in the Srinivasan Lab as a PhD student in the Biology and Biotechnology department.
Contact: emdiloreto@wpi.edu
---
Samuel Isife: Graduate Student
---
Ekra Jean-Yves: Visiting PASET Scholar
---
 Aashi Akare: Undergraduate Volunteer WPI '24
---
Ronit Avadhuta: Undergraduate Volunteer '25
---
 Tara Bromfield: Undergraduate Volunteer WPI '25
---
 Olivia Garity: Undergraduate Volunteer WPI '24
---
Volunteering
If you are interested in volunteering in our lab, please reach out to Dr. J,
jsrinivasan@wpi.edu
, to see if we have any projects that align with your interests. To make sure you are able to accomplish beneficial science, volunteers must be able to commit to 100-120 hours/semester, <10 hours/week, any time Monday to Friday between the hours of 9am-6pm.
---
Past Students and Researchers
Researchers
Naman Patel
Anita Chavan, PhD
Worcester Polytechnic Institute Graduate Students
Sabine Hahn, PhD Candidate Rotation
Samantha Bryce, MS Candidate Rotation
Tianbi Zhang, PhD Candidate Rotation
Tianyu Yang, MS Candidate Rotation
Worcester Polytechnic Institute Undergraduate Students
Rebecca Whittier '22 MQP
Jordan Wynn '22 MQP
Jeffrey Marsh '23
Gabriella Paquette '23
Annalise Robidoux '20 MQP
Sarah Tarantino '21 MQP
Emily Stead '21 MQP
Kathryn Nippert '21 MQP
Luigi Apollon '21 MQP
Anthony Boza '23
Liza Hote '22
Emily Flavin '20 MQP
Morgan Jones '22
Sonia Deodas '21
Michael Savoie '19 MQP
Bailey Sweet '19 MQP
Jane Lockery '19 MQP
Haylea Northcott '19
Timothy Consedine '18 MQP
Emily McGlame '18 MQP
Lily Randle '18 MQP
Nathan McNeil '18 MQP
Isabella Garver '18 MQP
Laura Aurilio '13 MQP and MBA '17
Jacqueline Garcia '19
Angelica Pollard-Knight '19
Jaden Yabut '17
Marissa Patterson '17
Rebecca Burns '17
Aidan Burn '17 MQP
Veroniki Nikolaki '16 MQP
Florentia Nicole Ong '16
Veronica Coyle '16 MQP
Alexander Turland '15
Bethany Burke '14
Northeastern University Students
Apoorva Indraghanty
Sneha Hingorany
University of Connecticut Students
 Acton-Boxborough Regional High School Students
Advanced Math and Science Academy Charter School Students
Doherty High School Students
Grafton High School Students
Massachusetts Academy of Math and Science Students
Saaya Daga
Anshika Shekhar
Shreya Venkayala
Kyle Klamka
Supriyo Rana
Ishita Goluguri
Matthew Young
Mariam Dogar
North High School Students
Shrewsbury High School Students
Kruthi Gundu
Pranav Cowlagi
Shruthi Sivasibramanian
Anish Warty
Chinmay Kale
Wachusett Regional High School Students
Zachary Swidey
Stephanie Jones
Tyler Jones
Westborough High School Students