In response to the outbreak of highly infectious diseases, such as Ebola (2015) and Zika (2016), a Tele-Robotic Intelligent Nursing Assistant (TRINA) was developed by me and Dr. Hauser at Duke University to assist healthcare workers in routine patient-caring tasks, handling of contaminated materials and protective gear. This tele-nursing robot consists of a mobile manipulator robot, a human operator's console, and software that supports various interfaces for direct teleoperation and task automation. It is also equipped with telepresence for bi-directional communication, and wireless sensors for collecting information from patient and environment. This tele-nursing robot is designed to be human-safe, versatile and usable by novice users.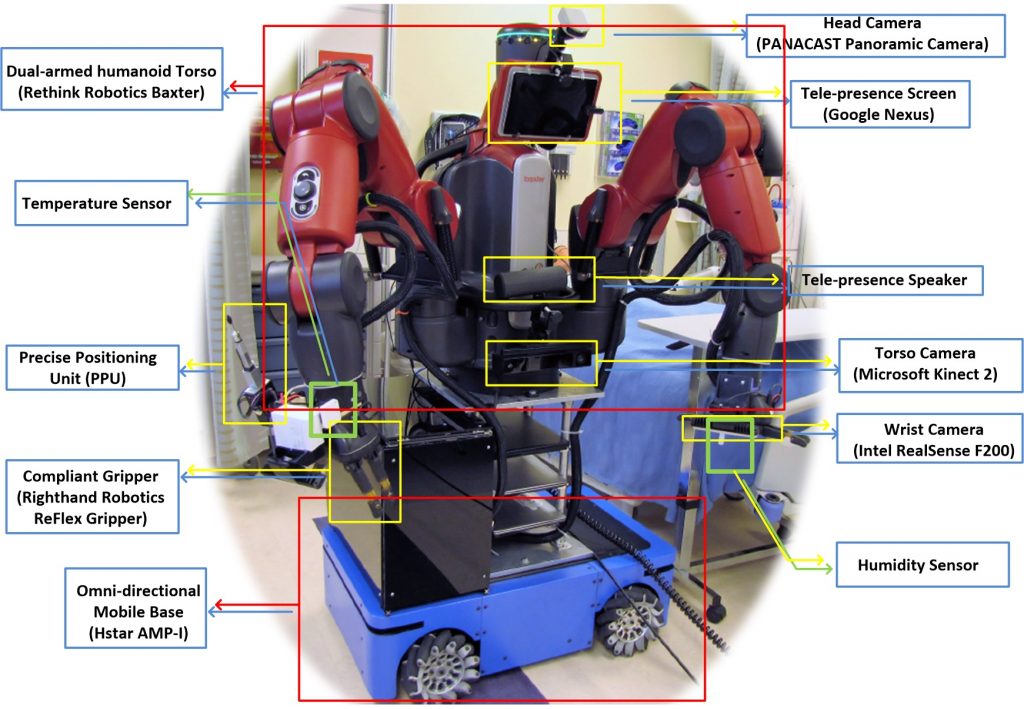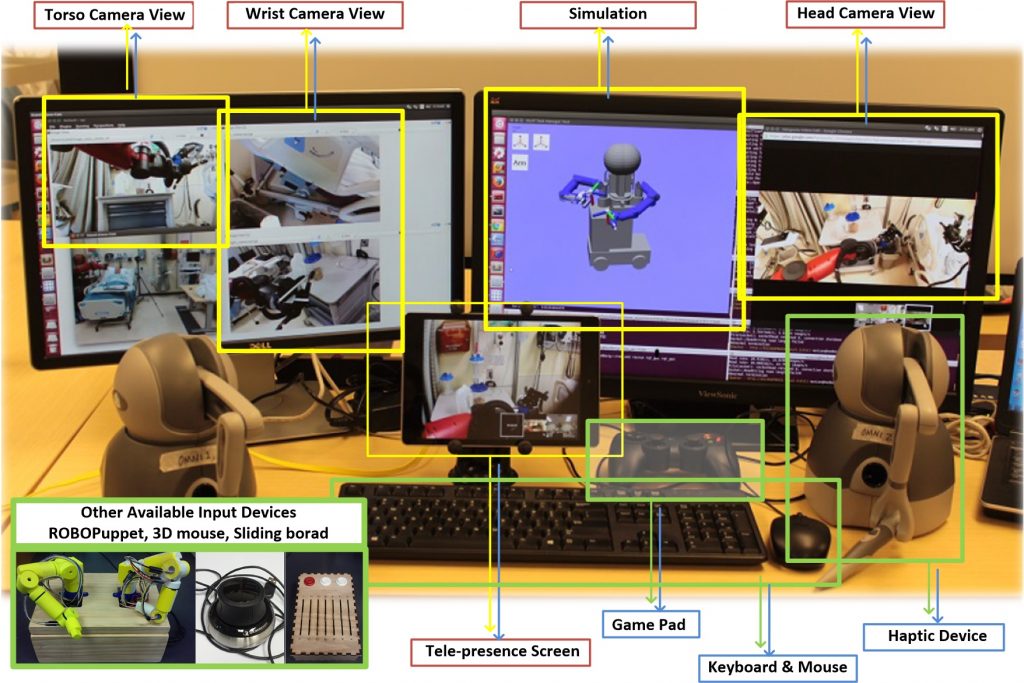 At WPI, we futher improve TRINA's level of automation, adaptability, and usability in hospital nursing and in-home caring tasks. Beyond medical applications, we aim to endow the TRINA with general-purpose motor skills to assist tasks in warehouse, social service, and manufacturing. To this end, we focus on
Shared control of complex robot motion coordination, including

Reach-to-grasp,
Loco-manipulation
Perception-action coordination

Intelligent teleoperation interface, such as

Whole-body human motion mapping
Teleoperation intent inference

Learning and planning in human-robot collaboration, including

Human-robot handover
High-level learning and planning of human-robot collaboration
Our research enhances the synergy of healthcare workers with shared-autonomous robots, and develop best practices for worker skill assessment and training.
Representative publications
Heramb Nemlekar, Dharini Dutia, Zhi Li, "Object Transfer Point Estimation for Fluent Human-Robot Handovers", In submission to In 2019 IEEE International Conference on Robotics and Automation (ICRA). PDF
Heramb Nemlekar, Dharini Dutia and Zhi Li, "Prompt Human to Robot Handovers by Estimation of Object Transfer Point based on Human Partner's Motion", IROS 2018 Workshop on Human-Robot Cooperation and Collaboration in Manipulation: Advancements and Challenges, Madrid, Spain, October, 2018. PDF
Sihui Li, Haowei Zhao, and Zhi Li, "Learning Motion Primitives and Task Plan in Teleoperated Robot Motion through Multi-modal Interfaces", RSS 2018 Workshop on Fundamental Issues in Symbiotic Human-Robot Interaction, Pittsburgh, Pennsylvania, June, 2018. PDF
Heramb Nemlekar, Max Merlin, and Zhi Li, "High-level Representation of Kinesthetically Learned Motion of Human-Robot Collaborative Tasks", RSS 2018 Workshop on Learning from Demonstrations for high level robotics tasks, Pittsburgh, Pennsylvania, June, 2018. PDF
Zhi Li, Peter Moran, Qingyuan Dong, Ryan Shaw, Kris Hauser, "Development of a Tele-Nursing Mobile Manipulator for Remote Care-giving in Quarantine Areas", In 2017 IEEE International Conference on Robotics and Automation (ICRA), pp. 3581-3586. PDF
Jianqiao Li, Zhi Li, Kris Hauser, "A Study of Bidirectionally Telepresent Tele-Action During Robot-Mediated Handover", In 2017 IEEE International Conference on Robotics and Automation (ICRA), pp. 2890-2896. PDF